Podcast: Play in new window | Download
Subscribe: RSS
What to do if you see a dog in a hot car
As the summer temperatures rise, you may come across a situation where an animal, typically a dog, has been left alone in a car that is too warm for comfort or safety. Even though it's no secret that leaving dogs in hot cars is dangerous and often illegal, it continues to happen too frequently.
So, we animal lovers should be prepared for these unfortunate and stressful situations so we can confidently act according to the urgency and severity of the situation, and minimize harm to animals from neglectful owners. Lori offers useful guidance on many aspects of dealing with dogs in hot cars including how to assess the degree of risk the dog faces, how to safely and effectively break the auto's window to free the animal, and legal issues if you decide to take that step.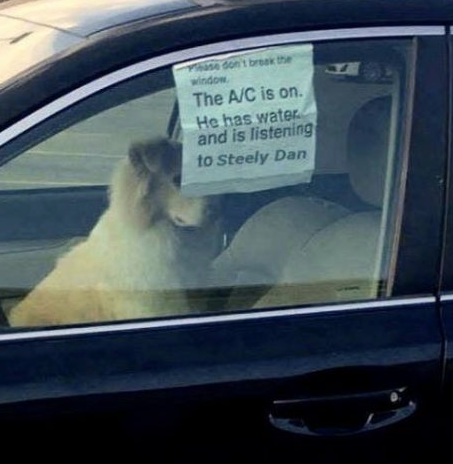 Laws about emotional support animals
Next, the Laws about emotional support animals are confusing and contradictory. People with serious needs for the emotional support provided by an animal are eligible to have an emotional support animal (ESA) if they have a diagnosed emotional condition, are getting treatment from a licensed provider, and have a signed letter from that person, usually on their letterhead, indicating the need.
ESAs are not permitted to go everywhere. They can live with, go to work with and travel on airlines with their owners. Emotional support animals differ from service animals in that service animals are specifically trained to perform tasks for disabled owners, such as guiding the visually impaired.
Unfortunately, because more and more people are fraudulently passing off their pets as ESAs, even individuals using trained service animals are enduring extra, unwarranted suspicion.
Legal expert Kenneth Phillips returns to discuss the Laws about emotional support animals and the rapidly changing landscape related to ESAs. Ken has a keen interest in many aspects of dogs in our society, and is the recognized leader nationally in legal issues related to dog bites.
Wonderful Hummingbirds
We continue with a short feature on hummingbirds and then conclude with Dr. Robert Reed, Medical Director of VCA Rancho Mirage Animal Hospital, who speaks with Lori about toxoplasmosis in cats and risks to people. Cats are the only definitive host of toxo.